21 Dec

Lein Applied Diagnostics, a Specialist Company in the Field of Precision Optical Technology, Receives Investment from Henley Business Angels

Lein Applied Diagnostics (Lein), a company that specialises in innovative and precise optical technology, have closed their latest funding round, receiving investment from two members of Henley Business Angels. This is the second time that Lein have gone through Henley Business Angels for funding, having previously raised a total of £440,000 back in 2017.
Lein has been recognised at the Thames Valley Tech Awards Evening 2018, winning the prestigious Science and Technology award. The company has developed a non-contacting meter to measure corneal thickness and the funds will be used to support the commercialisation of this novel device into the optometry market.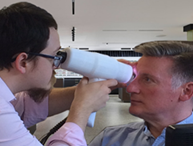 Dan Daly, Lein's CEO, said: "This is the second time we've worked with HBA to support our fundraising, both times very successfully. As we push the commercialisation of our meters, the ongoing support of our investor network is invaluable."
Jurek Sikorski, the Director of Henley Business Angels, added: "Lein was among the first companies to receive investment from HBA members and now it is scaling strongly we are pleased to do so again."
Henley Business Angels is an angel investment network of business leaders, successful entrepreneurs and private investors supporting early stage companies based in the Thames Valley that are connected to or work with the University of Reading and its business school.
HBA is sponsored and supported by:
HBA is a member of: